The world's largest crane has started work on the Hinkley Point nuclear power station site.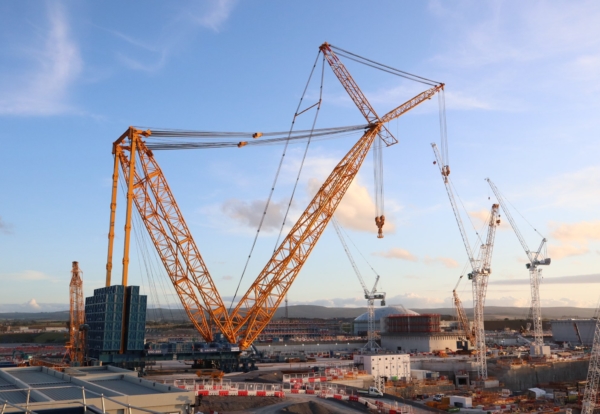 The massive crane, called Big Carl after Carl Sarens the father of the Belgian family business that made it, is able to carry 5,000 tonnes in a single lift.
The 250m tall crane has been developed to support the growth of modularisation in big construction.
Now the tallest man-made structure in the west country, it will be on site for the next four years and lift over 700 pieces of prefabrication including the heaviest components for the reactor buildings.
The SGC-250 runs along six km of rail track and at 50m radius, the crane can lift the equivalent of 32 single-storey houses or 1,600 cars.
It was brought to Hinkley Point C in 280 loads from its base in Antwerp via Bristol Port's Avonmouth Docks.
Rob Jordan, Hinkley Point C construction director said: "The crane is an impressive piece of kit and a world beater.
"It allows us to innovate in the way we build the power station, lifting complete pieces out of our factory bunkers and into place across the site."
Sarens director of Technical Solutions, Carl Sarens, said: "The SGC-250 is a game-changer. Sarens is proud to have conceived its design, designed it, and built it. We believe that this creation will serve Hinkley Point C and other sites around the world like no other crane can."