Firms told to change operating hours on London sites
London site workers have been asked to avoid peak travel hours
Firms persisting with construction work on their central London sites have been told to change their working hours to avoid putting pressure on public transport.
Build UK's latest coronavirus update, which it produces alongside the Construction Leadership Council (CLC), has recommended special measures to improve safety for those working in the capital.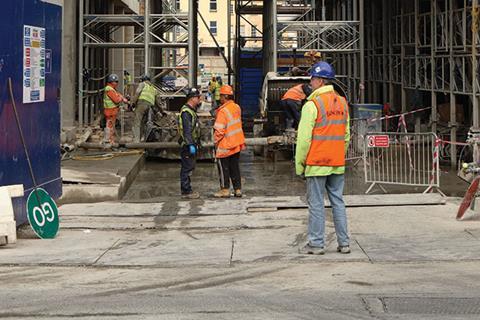 It said: "London remains a real challenge and we are specifically requesting that sites change their working hours to avoid putting pressure on public transport, particularly the tube network, during the peak hours of 5:45am to 7:30am and 4:00pm to 5.30pm.
"If construction workers travel later in the morning and evening, they can protect themselves, critical workers and transport staff."
>> Government shifts 2m social distancing advice to 'where possible'
>> Coronavirus: The major construction firms shutting their sites
>> Webinar available on demand now: Covid-19's impact on construction – the legal view
The notice also revealed the CLC is advising employers to issue their workers with a letter explaining that they are a construction worker or supplying services to a construction site in the event that they are asked to verify they are on an essential trip.
Building has revealed that Balfour Beatty has instructed staff to say they are essential workers if they are challenged over why they are travelling to work and is in the process of issuing letters that say as much.
In a recognition of public hostility towards some parts of the industry, one of the firm's sites has told its workers and subcontractors to get in touch with bosses if they are stopped and quizzed over why they are out.
The notice from Build UK and the CLC said the pair were aware that the availability of accommodation for construction workers living away from home was becoming an issue and has raised it with the government.
The British Constructional Steelwork Association (BCSA) has also announced revisions to their Safe Site Handover Certificate to include safety measures introduced by Public Health England to prevent the spread of covid-19.
These revisions come as the BCSA received feedback from members that some main contractors are using contractual threats or off-loading site health and safety responsibilities to their subcontractors in order to maintain trades on site.
The changes include the 2m rule for self-distancing and regular cleaning of the surfaces that are used by many people such as access and egress points, messrooms and welfare facilities.
This certificate has been circulated to all BCSA steelwork contractor members who are advised not to go on site until the client and main contractor have put all the health and safety measures in place and have signed the certificate.